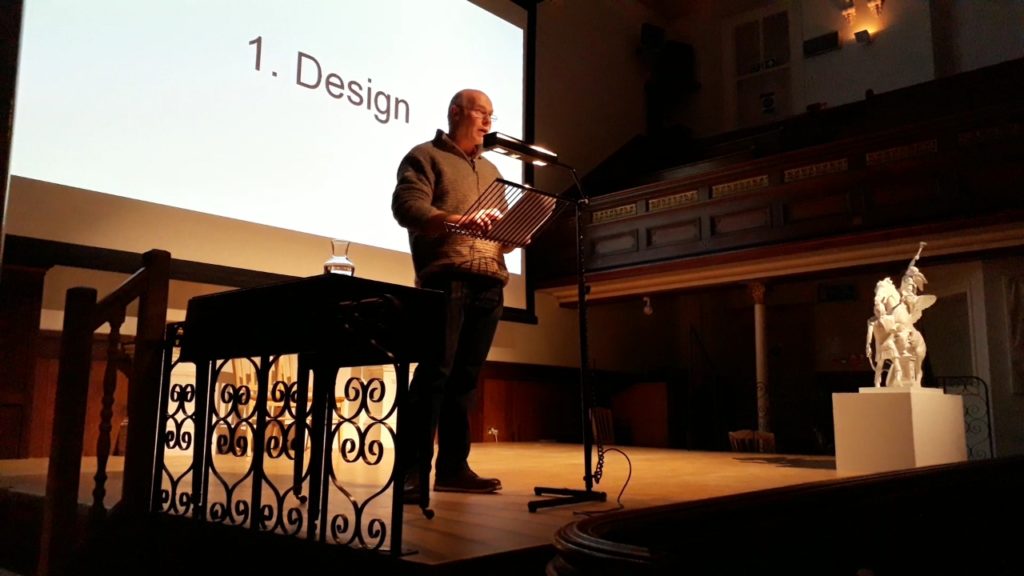 Barry grew up in Mid Wales and from an early age he was captivated by the beauty and perfection of nature in all its forms. His observations of the natural world taught him the many variant leaf shapes for example and the complex mechanism connecting muscle to bone which enable a rabbit's leg to propel it forward.
As Barry's observations became more acute, he would tirelessly draw these images from memory trying to replicate what he had seen. With a flare for Art, and a training as a precision engineer he started up a small business in 1989 as a cabinet maker, employing the same traditional methods as used by Thomas Chippendale. He introduced carving to embellish the furniture which proved popular with clients. Barry's carving commissions extended to a heritage shop front, carving restoration at Ripley House, Trafalgar, and Cambridge Gate, London.
After deciding to dedicate himself to sculpture and realizing the need to extend his knowledge of the traditions of sculpture, Barry studied Art History with the Open University. He was fascinated by the achievements of Phidias who used the golden ratio to proportion his works and Renaissance sculptors like Donatello and Michelangelo
Barry has sculpted portrait busts of Julius Caesar, Shakespeare and many others from solid Carrara marble blocks imported from Italy. He also sculpted a larger than life-size statue of the 16th century Bishop William Morgan from Llanrhaeadr-ym-mochnant who translated the Bible from Hebrew into Welsh, and was unveiled by First Minister of Wales Carwyn Jones in 2012.
Barry's sculptures are the culmination of decades of study of human and animal anatomy, classical, renaissance and Baroque sculpture at the same time developing his own dynamic yet slightly ethereal style.
Visual Arts Open Judges

Acknowledgements
Carolin Leistenschneider
Director of Contemporary Fine Arts Gallery,
Berlin